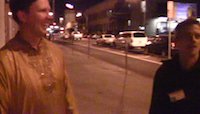 Clowns and Fetuses is a collaborative project that consists of found sounds, spoken word, and various conventional instrumentation used in non-conventional ways. Their ideas are to convey certain historical facts and folklore and in recreating events that may surround these certain facts or lore. In recreating these facts or lore they do research and fact find certain events that might revolve around one aspect of the one historical event we are performing. They also encourage people from our audience to partake in the performance process and add to the historical fact finding process.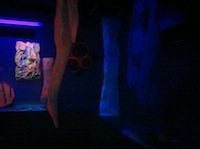 Mystery Cave a phenomenological interactive multimedia cave installation, based on the "Richard Shaver Cave Mysteries."  Paul and Rich are experimenting with the notion of Shaver's Mystery Cave colliding in a parallel universe through the alteration of public space. The cave will be a combination of dream machines, fluorescent lighting, large fluorescent painted rock formation sculptures, interactive videos, and sounds to enhance a viewers physical and psychological space. We will need power for lighting, sound and video.  Additionally we will need a space that is indoors for atmospheric lighting, and sculptures.  We will also need outlets for electronics.  Sound can go from 60 to 120 db. this we can be flexible with if it is too loud. This installation is the awareness of public spaces juxtapose to natural cave environments through the viewers interaction.
Clowns and Fetuses interviewed at SW2011

SoundWalk is on October 5th, 2013.
RSVP on Facebook
. This will be the 10th and final annual event.