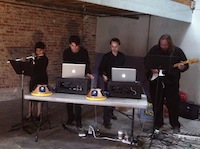 Martin Herman, Director of the CSULB Laptop Ensemble sets up an interactive sound environment with multiple laptops, each played by a different performer. Each laptop has its own speaker array through which sound will be distributed spatially. Pieces explore sound synthesis, processing and spatialization with live performers (such as violin and voice) and bring elements of structured improvisation within well defined musical processes.
SoundWalk is on October 5th, 2013.
RSVP on Facebook
. This will be the 10th and final annual event.