An exhibiting Sound-Artist since 2001, Gary Raymond first explored Sound-Art in 1979 with an "Audio Playground" design for Disneyland's 360 degree theatre pre-show. In the 1980's Raymond experimented with electronic music composer Steve Roach in the presentation of abstract music for public spaces. Gary's current work combines familiar objects and sounds in unexpected juxtapositions in order to create unfamiliar feelings in the viewer. Raymond has participated in every one of our even SoundWalk events so far as well as solo performances at the Long Beach Museum of Art in 2008, Andi Campognone Projects Gallery, Bleicher/ Golightly Gallery, Caporale/Bleicher Gallery, Coachella Music and Art Festival, and many more.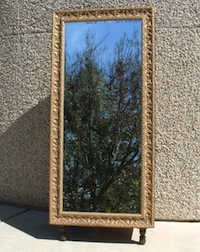 Gary is interested in the synergy created by the combination of visual and sound elements and creating pieces that change the meaning of the elements. His Audiointeractive pieces create a self awareness in the viewer that rather than observing the art piece, they are in fact having a conversation with them self with the art piece acting as the catalyst.
For SW2012 Raymond piece, "Mirror Mirror," which explores the duality of a double mirror, both visual and auditory, prompts the questions:
Do man made objects made from natural materials retain a spiritual essence after being transformed into utilitarian objects? Reminiscent of the period before The Age of Reason, do these man made objects have a magical life of their own that lies dormant until energized by viewers who have recalibrated their senses to become responsive to them?
SoundWalk is on October 5th, 2013.
RSVP on Facebook
. This will be the 10th and final annual event.