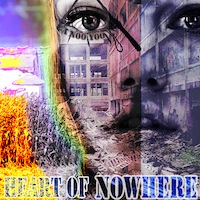 In Harrison Adam's installations for Soundwalk 2012, entitled Deep in the Heart of Nowhere/ Pour Love on the Broken Places, he asks the question – what are we missing? Are the interactions between individuals in public spaces meaningful and satisfying? Are our bodies given what they need by our cultural institutions?
Harrison Adam's work is built around a series of installations placing the individual in a heightened or radical relationship to public space. His subject is the webs of power and perception which define the sensory experience of urban areas. In societies, dominant and subversive ideologies alike depend upon basic human interactions to relate to and ultimately control the individual. Co-citizens or authority figures can hail the individual in the street with nothing more complicated than a "Hello," or the universal request to state your name. The individual responds and tacitly acknowledges their place in a common framework of authority, society, and ideology.
The power or relevance of such frameworks has been dismantled by the modern wave of massive urbanization and digitization. Studies of the 20th century have shown increasing aversion to eye contact in urban populations, keeping pace with the increasing size of the cities themselves. Meanwhile, more interactions than ever occur anonymously online, unmediated by basic, universal identifiers such as the face and name. In such a world, what might we be missing?
SoundWalk is on October 5th, 2013.
RSVP on Facebook
. This will be the 10th and final annual event.