Inouk Demers is a sound artist, media artist and composer living in Los Angeles. His work has been shown or heard throughout Europe and North America, and commercially recorded. His recent work includes multimedia collaborations, documentary film, experimental video, field recordings, and aesthetic journalism. Inouk's work studies areas of public life and public policy within the frame of aesthetic journalism. An underlying focus is on how flows of information both encourage and complicate understanding, and how fiction and reality overlap in the public realm. Inouk integrates sound (his background) with a broader media approach to show how human experience is mediated through different means of communication. His major body of work includes Conveyance, an interactive multimedia information kit on water policy in Los Angeles, as well as Bandwidth, a project on bandwidth competition in the telco industry.
For SW2012 Demers will exhibit INSIDER, a live trading environment modeled on globalized trade, complex financial instruments, and high-tech speculation. It draws inspiration from the 2008 stock-market collapse. Participants make simulated financial transitions that trigger or influences sounds and a video projection. The sounds of ambient and techno-inspired advertising jingles, public demonstrations, and news radio are triggered by rallies, crashes, and natural disasters in such a way that the degree of control exerted by participants on the trading mechanism remains elusive and unpredictable. An Arduino microcontroller, Max/Jitter and employed in this piece.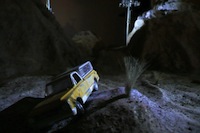 Desert Bands. An abandoned vehicle, antennae, and an old TV set lie among the sand and brush, at the foot of two mountains. It might be the setting for a B-rated post-apocalyptic movie. Over the mountains loomed a number of cell phone antennae, which have inexplicably overtook this remote region. Swirling in the air above ghostly fragments of radio and wireless transmissions (local radio programs in foreign languages, Bible radio, emergency medical service, police, air traffic control, shortwave signals and some notoriously non-FCC-compliant amateur radio). The piece played on ideas of isolation and connectedness, the overwhelming flow of streams of information, and the role of danger, aggression, invisibility and control in communications and communications networks.
Demers interviewed at SW2011

SoundWalk is on October 5th, 2013.
RSVP on Facebook
. This will be the 10th and final annual event.