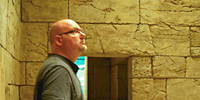 John Kannenberg creates quietly reflective works in both image and sound that blur the boundaries between intention and accident. Using techniques derived from free improvisation, musical composition, field drawing, minimalism, cubism and abstract expressionism in their construction, his works deal with a wide variety of themes including time, nature, mindful contemplation, collection, the sonics of space and place, and the processes of both making and observing art.
John's work has been presented extensively worldwide, including appearances at the 2010 Hering Video Edition in Cologne, the 2009 Switch ON Festival in Kuala Lumpur, the 2008 Sonic Fragments Festival at Princeton, the FILE 2007 conference in Rio De Janeiro, the 2006 Soundwalk festival in Long Beach, the 2005 John Cage Musicircus at the Museum of Contemporary Art Chicago, and several broadcast appearances on Resonance 104.4 FM in London. His graphic score compositional work has been published in Theresa Sauer's Notations 21, and he has released recordings on the Crouton, Topscore, Grain of Sound, Retinascan, Earlabs, Furthernoise, Cohort and Why Not LTD labels. John has also been a long-time contributor to the Something Else radio program on WLUW 88.7 FM in Chicago.
Since April 2002, John has served as the creator, designer and curator of Stasisfield.com, an experimental music label and interdisciplinary digital art space presenting works by a diverse collection of artists from around the globe.
Having a dual role as both an independent artist and the curator of the digital art space Stasisfield.com, I view my artistic mission as a series of interdependent responsibilities that result in the encouragement of contemplation. My own work as both a sonic and visual artist is focused on creating atmospheres conducive to meditative thought. While using elements of repetition, reduction, combination and transformation, the images and sounds I present are rooted in an atmosphere of calm. My artistic process both asserts and suppresses artistic ego as I attempt to balance precise decision-making with random elements and serendipitous accidents. Usually devoid of any direct references or overt meanings, the pieces I create are designed to assist their audience in turning their attention inward by contemplating their own relationship to the piece's content. Similarly, my philosophy towards the curatorial work I perform at Stasisfield involves choosing works that compliment these sentiments as well as exploring other more outwardly expansive themes. The multi-purpose nature of this web site allows me to present sound works within their own contexts (much like a traditional record label) while its digital exhibition area, the Stasis_Space gallery, contains themed projects that include both sonic and visual art. I am compelled to craft themes for Stasisfield's digital art exhibitions that deal with notions of community, interaction and interpretation while investigating the changing roles, disciplines and responsibilities of those who call themselves "artist" in the digital age.
SoundWalk is on October 5th, 2013.
RSVP on Facebook
. This will be the 10th and final annual event.