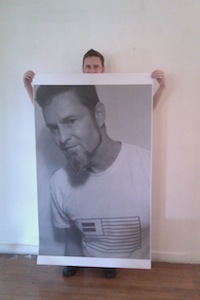 Roy Anthony Shabla is an artist and poet working in painting, altered prints, handmade books, performance, and film. He is represented in numerous private collections across the country. His graffiti art are seen around the world including in solo shows. Shabla has curated many events and participates in many artwalks in Long Beach and Downey, and La Puente. Roy Anthony Shabla has also designed handmade and production clothing as well as commercial books and websites. He is an active art collector and has been a regular lecturer on ceramic arts at various events in the Los Angeles area. He consults on the selection and placement of fine art as part of his feng shui work, both private and public.
See events page for recent activity.
Shabla's peice We Are Connected By Words, a sixteen minute experiential soundtrack of poetry and music accompanied by film and images of people, is a collaboration with photographer Nader Ghassemlou. The theme of the piece is around communication and inter-personal relationships.
SoundWalk is on October 5th, 2013.
RSVP on Facebook
. This will be the 10th and final annual event.