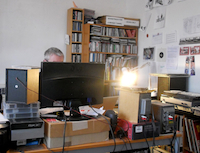 Alan Dunn was born in Glasgow in 1967 and studied at Glasgow School of Art and The Art Institute of Chicago. In 1991 he gained international coverage for his self-initiated Bellgrove Billboard Project, presenting 17 new hand-painted posterworks to an audience of 440,000 people at an east end railway station. From 2001- 2007 he was lead artist on the ground-breaking Internet TV project tenantspin and he currently lectures in Contemporary Art Practices at Leeds Metropolitan University, UK. He has developed collaborative content with Philip Jeck, Mike McCartney, Fiona Banner, James Kelman, Foreign Investment, The Big Issue Magazine, Will Self and BBC Radio 3.
67projects is a Liverpool-Leeds based artists' group chaired by Alan Dunn. It is dedicated to the presentation of artworks on billboards and compilation CDs. The audio branch, cantaudio, is a project with international collaborators, including Leeds Metropolitan University. Collections around specific themes are developed, bringing together works from artists, art students and archives. Selections from 67projects will be presented at SoundWalk 2012 which includes Soundtrack for a Mersey Tunnel, The sound of dripping water, Artists' uses of the term 'revolution', Grey is the colour of hope, Soundtrack to a catastrophic world, A history of background, and Adventures in numb4rland.
SoundWalk is on October 5th, 2013.
RSVP on Facebook
. This will be the 10th and final annual event.