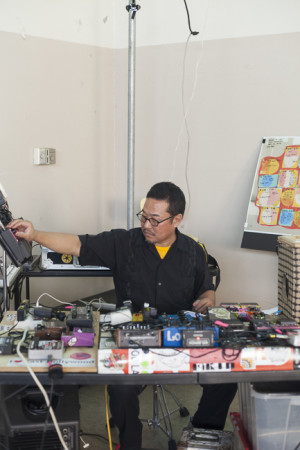 Alan Nakagawa is a sound artist and hyper-collagist based in Los Angeles. He combines sonic and subsonic frequencies inspired by scientist Royal Rife with noise music and video montage. His video imagery incorporates 8mm app imagery, drawings and found imagery that often are recreations or responses of/to his dream states. Nakagawa developed his main instrument, the Iso Cube, to isolate micro percussion and found objects. He plays objects in the Iso Cube and processes the sound through modulators, distortion effects and sound loops. He is currently developing vibratory music using Rife's frequency studies with interest in sub-sonic tones. He has presented his work at the Redcat (Disney Hall), Museum of Contemporary Art, Los Angeles County Museum of Art, the Getty Center, Japanese American National Museum, Eternal Telethon, the wulf., Oogimachi Museum Square (Osaka), and La Panaderia (Mexico City). He curates the weekly experimental music webcast Ear Meal and co-founded the multi media arts collective Collage Ensemble Inc..
Nakagawa is a 2012 recipient of the California Community Foundation Mid-Career Artist Fellowship and the Monbusho Scholarship. He received his BFA from Otis Art Institute of Parsons School of Design and his MFA from UC Irvine and researched stage design at Japan University School of Fine Arts in Tokyo.
In addition to his solo work, he is currently working with Ear Diorama Ear (Kaoru Mansour), Joseph Tepperman and the Southern California Soundscape Ensemble.
Moondog Pole is a sound art work celebrating the powerful brilliance of musician/composer/poet/luminary, Moondog, specifically created for the 2013 Soundwalk.
SoundWalk is on October 5th, 2013.
RSVP on Facebook
. This will be the 10th and final annual event.