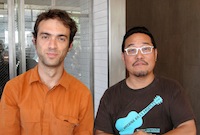 Inter-disciplinary artists Joseph Tepperman and Alan Nakagawa continue their collaboration inspired by the animals sent into space during the early phases of the US and Soviet space programs. FIRST IN SPACE is an audience-participatory immersive environment that uses sound, video, and speech recognition software to engage the viewer in a simulated ride into space. Projections, as though from the viewpoint of the animal astronaut/cosmonauts, are seen from the interior of a spaceship. Using a sing-along format, viewers are prompted to read projected text aloud over a prerecorded sound environment, thus triggering realtime interactions among the words, the images, the score, and the audience. The theme is part reverence for the first earth-creatures to leave this planet, part morbid curiosity with the fate of those test subjects. And the speech-based interactive aspects of the piece contrast the inarticulate cries of the animals, inviting the audience to give voice to something we on earth will never know, or at least to our inexpressable need to know it.
The first iteration of FIRST IN SPACE was performed at Machine Project as part of the Eternal Telethon, and also documented on Nakagawa's weekly webcast, Ear Meal.  The duo plans to continue building on this theme with larger-scale environments – inspired by, and in memory of, the many animals who pioneered today's space programs.
Alan Nakagawa, sound artist based in Los Angeles. He is an inter-disciplinary artist that melds visual practices with sound and video. Primarily creating work through automatic techniques and improvisation, inherently campaigning to make humanized technology driven art, and giving the neat and the messy equal opportunity. Nakagawa co-founded arts collective Collage Ensemble Inc. (1984-2012), curates the weekly Ear Meal Webcast, coordinates public art for the LA Metro, documents his meals, is a member of Ear Diorama Ear and the Southern California Soundscape Ensemble. He is a recipient of the Monbusho Scholarship, Rockefeller Foundation Grant, Subito Grant and Art Matters Inc. Artist Grant. Nakagawa has presented his work throughout at such places as the Getty Center, Los Angeles County Museum of Art, La Panaderia, Oogimachi Museum Square and Integratron.
Joseph Tepperman is a writer, composer, and speech engineer that the L.A. Times called "a mash-up of Gertrude Stein and Lewis Carroll." His works have been performed/installed at REDCAT, The Stockholm Fringe Fest, Microfest: Los Angeles, the Perform! Now! festival, the Glow festival, the Pomona College Museum of Art, and at four past instances of Soundwalk. In the field of speech technology, he has published 30 research papers, filed three patents, and taught grad-level courses at USC and CU Boulder. He lives in Los Angeles and works as a Speech Researcher for Rosetta Stone.
SoundWalk is on October 5th, 2013.
RSVP on Facebook
. This will be the 10th and final annual event.