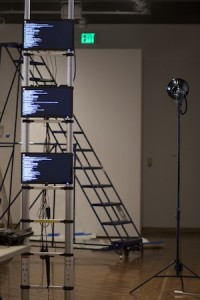 Astrovandalistas Æffect Lab is a translocal artist collective founded in 2011, working from Mexico City. Their work focuses in artistic action, activism and research and utilizes technology as a tool. They question the established structures of the internet on topics such as freedom of speech, ecology, human relations, and social issues.
Utilizing industrial furniture—sometimes modified or adapted by them, as well as resources such as trailer containers, discarded factory materials and even "wearable" technology, Astrovandalistas invite you to be active participants of their work Disrupting Technology, which also function as triggers of critical thought. Their works include performatic elements carried through as "audiovisual actions" of political activism and civic awareness, which create environments and/or situations in which your response is key, and makes you an active participant instead of a receptor. This results in alternative and democratic social networks, not only through the formal workshops they give, but also from the interaction itself of the community during the production of the pieces and the exercises of collective contemplation. MOLAA'S Project Room will be converted into a control and visualization hub for this network, allowing the participants to take part in its communication flow and to glimpse its current progress. The spectator will be able to experience the prototypes, as well to witness the documentation of the evolution of the project. The exhibition catalogue will function as an "Astrovandalista Cookbook," with a manifesto and information on how to reproduce the prototypes.
SoundWalk is on October 5th, 2013.
RSVP on Facebook
. This will be the 10th and final annual event.