Brien Engel and Douglas Lee are part of an exciting new community helping to revive and promote the enchanting art of glass music. The glass harp is comprised of goblets and snifters of various sizes, which he plays by carefully rubbing their rims with moistened fingers.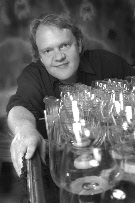 Brien Engel has studied guitar for most of his life, and in recent years has discovered a love of mbira music of Zimbabwe. He has also composed original musical scores for puppet shows, live theatre, and film documentaries. He was a theatrical sound designer in the Atlanta theatre scene, often building instruments and sound effects for live use in productions. In one instance, he made small wine glass sets for actors to play. This prompted more refined and expanded versions. He taught himself to play his first set in 1993, built on a summer trip to Olympia, Wa. His current instrument features 50 glasses, and is one of the largest in the world.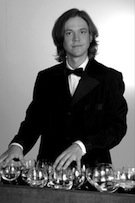 Douglas Lee was born and raised in Los Angeles but moved to New Orleans at age nineteen where he was introduced to the Musical Glasses while working with a local circus troupe. After years of intensive practice and appreciation for the instrument Lee has now become one of only a handful of skilled players in the world. He performs many styles of music on these glasses including jazz, classical, pop and heavy metal and has been featured in numerous settings including NBC's "America's Got Talent", "Science Park" for SBS Television in Soeul, Korea, Tanquerray's 2005 holiday campaign "Tony and the Glass Man", and numerous solo appearences for weddings, corporate events, gallery openings and holiday parties at some of LA's most reputible venues. Lee also acted as musical consultant for the 20th Century Fox filming of "Bedazzled, 2000.
For SW2012 they will perform an ongoing improvisation involving glass harps, koto, glockenspiel, musical saw, various other sound sources and loops.
SoundWalk is on October 5th, 2013.
RSVP on Facebook
. This will be the 10th and final annual event.