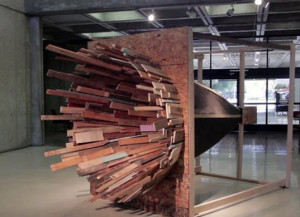 MAD 190 is a contemporary media, art, and design course at Cypress College (Cypress, CA). Student interest are in interdisciplinary and collaborative approaches to technology-based art making course.
Student Artists:
Renee Espinoza
Rosemary Flores
Diana Galeana
Jasmine Herrera
Nicholas Huh
Jenny Hur
Brittney Kirby
Nathan Kirby
Vera Makianich
Giovanni Penate
Shantele Sheppherd
Megan Kirsten Sibayan
Chimeng Thao
Vanessa Torres
Ching Yeh
Rumori is a site-specific sound sculpture. The project started with an investigation of the Italian Futurist, Luigi Russolo, who wrote L'Arte dei rumori (Italian: The Art of Noises), a manifesto addressing the growing urban industrial soundscape. The Art of Noises is considered to be one of the most important and influential texts in 20th century musical aesthetics. Russolo also made instruments of wood and mechanical components called intunaromori that mimicked these industrial noises found in urban cities. Following our historical investigation, students proceeded to sound recording and production techniques capturing machine noises found in the city (Long Beach, CA), specifically the ones we are unable to hear with our naked ears. Students used recorder telephone pick-ups (telephone taps) to hear and record these micro-noises (electromagnetic field activity) generated by electronic machines. They conducted a soundwalk, recording micro-noises and composing their version of Russolo's intunaromori. Some of the noises to be used in the students' compositions included: laptops sending emails over public wifi, atm machines checking availability of funds, smartphones conducting Facebook status updates, cash registers and so on.
SoundWalk is on October 5th, 2013.
RSVP on Facebook
. This will be the 10th and final annual event.