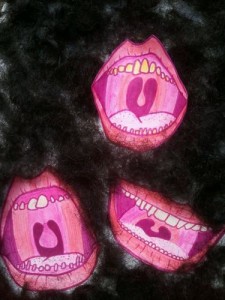 Composer and creator of absurd music/theatre Ellen Warkentine's past work has examined the definitions and experience of opera by exploring the juxtapositions and intersections of modern life and epic spectacle. She has worked with award-winning Four Larks Theatre to create immersive "junkyard opera." Warkentine also created LOLPERA: An Epik Opera About teh Internets to explore teh internets as an opera. She has a BA Film Studies and Theatre from UCI and an M.Ed from UCLA in Inquiry focus on Performing Arts/Education.
With Opera Creature, she continues this exploration by creating an interactive and site-specific music/performance art work that transforms every-day public spaces and exchanges into playful sites of grandeur. A large, loping mound of fur, musical instruments and other audio device will glide majestically down the streets of downtown Long Beach singing sounds from the past, present, and future. Warkentine will performs exclusively with sounds during the event. Participants are invited to contribute their sounds along with passing busses, melodies of impassioned schizophrenic monologues and cafe banter.
SoundWalk is on October 5th, 2013.
RSVP on Facebook
. This will be the 10th and final annual event.