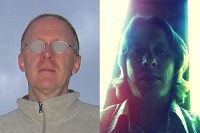 Eric Strauss began making art and music in the mid-1960s. He studied television arts at California College of the Arts and electronic music at the Mills College Tape Center. He was a founding member of the band Zazu Pitts and a collaborator/performer in such various music groups as The Polish Eagle Orchestra, The Motor Totemist Guild, Personal Best, Southern California Algorithmic Miniature Orchestra (SCAMO), Phog Masheen and Cerulean Cheer. His current works combine both scavenged and manufactured elements with a hardware store aesthetic in an exploration of the role of the horn in world culture.
Gregg Garcia is an experimental drummer and sound engineer. A long-time LA-based musician, his current projects include Oh Fix Lemons Collectivo and SNARES.
Their piece for SW2012 is titled Drummers' Holiday.
A simple premise informs this action. While meditating on E.W. Cioran's A Short History of Decay, two percussionists will construct a series of improvisatory soundscapes employing various horns, electronics, and tuned percussion. In keeping with the holiday theme, they will try to hit things as little as possible.
SoundWalk is on October 5th, 2013.
RSVP on Facebook
. This will be the 10th and final annual event.