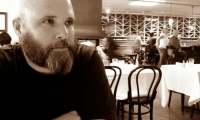 Sound artist, musician, and curator Glenn Bach will participate in a panel discussion with several other sound artists at 7pm at Fingerprints followed by a guided tour at 8pm departing from Fingerprints as SoundWalk the official docent.
In his other curatorial duties he oversees the MPRNTBL netlabel, showcasing field recordings, lowercase, analog noise, and collaborative soundscapes from Intense Situations of Peril, Double Blind, Mem1, Aaron Ximm, and more. Bach curated a six-night music festival, Slow Sound, in September 2009; so.cal.sonic, a six-day festival of experimental and improvised music, in April 2005; and a monthly house concert series, Quiet, that featured some of the leading figures in quiet (lowercase) music.
SoundWalk is on October 5th, 2013.
RSVP on Facebook
. This will be the 10th and final annual event.