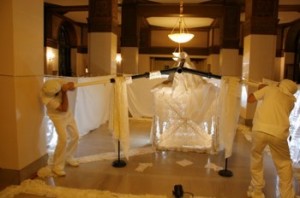 In addition to being a featured artist on National Public Radio programs, MLuM, a Long Beach-based histriophonic ensemble, comprised of multi- national artists, has presented internationally (Musicacoustica, Beijing; NUS Arts Festival Singapore; Centre de Cultura Contemporania de Barcelona; Galerija 73, Belgrade; Galerie 21, Braunschweig; Smithsonian Week, Long Beach, CA; SoundWalk, Long Beach; Ear Meal & Il Corral, Los Angeles; SIGGRAPH LA [Music Box Henry Fonda Theater] Hollywood, CA; Computer Music Journal [MIT Press], et. al.).
With an intercultural and inter-media aesthetic and praxis that can be described as "Weltradau" (World Noise), MLuM takes and makes the "best" out of the "worst"  (and vice versa) that various music(s), images, performance practices and sounds have to offer.
Last September, Hope University, a fine arts infused day program for adults with developmental disabilities (such as Down Syndrome and Autism), performed their original multi-media performance and sound art piece entitled, Beau Monde Float, Thirteen Six Views of Sound Beauty. Developed through a collaboration between Hope University and the performance art ensemble, MLuM (bios of the group found at end of press release), Beau Monde Float, Thirteen Six Views of Sound Beauty is a profoundly moving, multi-sensory experience that takes audiences on a journey exploring the nature of Beauty. This September, they will be bringing the show back to the Plummer Auditorium for another One- Night-Only performance. Beau Monde Float has received national and state recognition for this production that features individuals with disabilities performing on stage alongside professional performance artists. Hope University has been awarded grants from the National Endowment for the Arts, the California Arts Council, Department of Justice, the Allergan Foundation, and the Pacific Life Foundation.
Beau monde is French for beautiful world.
This production is, in some ways, a representation of a float in the parade of a beautiful world.
The Artistic Director of Hope University, Shelley RuggThorp states: "Beau Monde Float, Thirteen Six Views of Sound Beauty is a poignant and passionate celebration of the vitality of the human spirit and the beauty in us all."

Beau Monde Float is neither a musical nor a concert, although it features music performed by the Hi Hopes (a pop band made up of highly talented individuals with developmental disabilities, some of whom are musical savants), the Hope University Choir and the Handbell Choir, along with the opera singers of MLuM. It is not a play, although it has costumes, sets and actors.
About this original sound and performance art production, Director, Marco Schindelmann says, "It doesn't have a narrative. It does not have to be understood but should simply be experienced. In our culture, people frequently expect to be instructed by 'a greater will' as to what to think, what to buy, what to expect, how to live etc. Beau Monde Float is about making connections that are personal and not based on outside expectations. Beau Monde Float hopes to present a world in which people create their own personal mythologies and entertainments. It's a dream parade, an aesthetic circus, mystical vaudeville or whatever else the spectator-auditor imagines it to be."
"Ugliness is Beautiful" from Beau Monde Float

Artistic Director, Shelley RuggThorp invited Marco Schindelmann and his performance art ensemble, MLuM, to collaborate with the clients and staff of Hope University on this project back in 2008. Throughout the process, MLuM worked with the strengths and talents of the Hope University clients and staff to develop this piece. MLuM began the process by collecting thoughts and feelings about beauty from the Hope University clients, and incorporated them into song lyrics and recitations. MLuM recorded the clients talking and singing about beauty, and those recordings became integrated into the music. There were also been drumming workshops, as drumming is a component of the performance. In addition, recordings were made of the clients playing keyboards that were programmed with sampled sounds. A choreographer worked with the clients on the creation of a dance. The clients themselves and their artworks were videotaped for a video piece that will be projected during the performance. On stage the audience will see a knitted and crocheted "Cycloptopus" and many sea and land creatures, as well as a "Mer-angel", all hewn in papier maché, parading about the stage. Performers will be "swimming" in a sea of multi-colored cardboard tube "seaweed".
Beau Monde Float Director, Marco Schindelmann, was taught by his mother to see the beauty in everything, even things that most people might label as ugly. This point of view is at the heart of the production, contrasting such images as piranhas and butterflies or octopuses and mermaids, and at a deeper level, such things as the known and the unknown, or the seen and the unseen. The disabled population, for many, represents the unknown, and many people harbor a fear of the unknown. Through a production like Beau Monde Float, Hope University and MLuM hope to create a bridge between this disabled population and the community by sharing the gifts, talent and beauty that the Hope University clients and others with disabilities have to offer.
Director, Marco Schindelmann, describes the project as follows:
Beau Monde Float, Thirteen Six Views of Sound Beauty is a synaesthetic riff on aesthetic experience as it unfolds within the floating worlds of pure consciousness and the sensorium. Laid out in thirteen sections and six senses, it takes perspectivist cues from Wallace Stevens' poem "Thirteen Ways of Looking at a Blackbird" and Katsushika Hokusai's "Thirty-six Views of Mount Fuji" as it explores the superficial profundities of sensory interface as well as mutual life lived from different angles and in the midst of human expectations.
While cultivating the (Hope University) participants' self-perception as artists viable within the realms of experimental and "high art," this work, at the same time, recognizes and celebrates the contributions of similar communities to the development of Outsider Art/Art Brut.
Fellow MLuM collaborator, Michael Raco-Rands states:
"At a turning point in my college education, when I decided Music Therapy wasn't the right direction for me, I would have never dreamed that someday I'd be collaborating with special populations to create a performance art piece."
"Being involved in the creation of Beau Monde Float with Hope University's clients is a very welcome addition to my creative life. This realization was solidified during my last visit to Hope University where I observed hand bell choirs, vocal choirs, painters, knitters and sculptors, all preparing for the production."
"During my first workshop with Hope University we created an audio recording of the clients doing vocalizations, singing exercises and answering questions. Subsequently, we took these recordings and created samples to be used in the songs and soundscapes of the production."
"Our second workshop involved sitting each client at a keyboard and recording their improvisations into a midi sequencer. The resulting midi files were picked over for raw materials and inspirations, which will live in the show's songs and sound beds."
SoundWalk is on October 5th, 2013.
RSVP on Facebook
. This will be the 10th and final annual event.