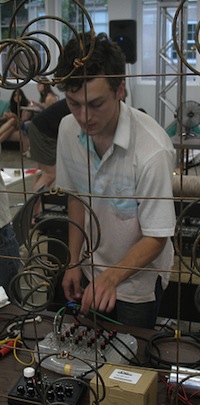 John Brumley attended school at UC Davis and graduated with a BS in music composition and was a DJ at the radio station KDVS. He has performed in groups Mucky the Ducky, a free improvisational group. He is a member of the group Segan Genesis which has releases on the KDVS and Weird Forest labels.
John's piece Bluetooth™ and You listens for bluetooth devices and then plays sound accordingly to the phone's OS (iPhone rings tones when an iPhone is connected, for example).
SoundWalk is on October 5th, 2013.
RSVP on Facebook
. This will be the 10th and final annual event.