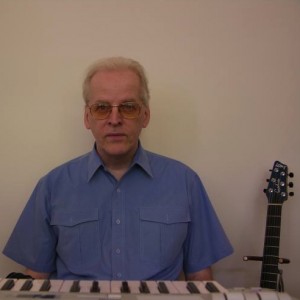 Julius Bucsis is a composer, guitarist, and music technologist who's works have been awarded by or featured in Musicacoustica Beijing 2012, CSUF New Music Festival, ICMC 2013, Argentina's CICTeM 2013, the film My Dad's Violin, The Soundproof Ensemble's 2012 tour, SEAMUS 2012 and 2013, Ireland's Hilltown New Music Festival 2012, Soundcrawl 2012, Electronic Music Midwest 2011, Electroacoustic Barn Dance 2012 and 2013, Tutti New Music Festival 2013, KC Soundwalk 2012, Iceland's RAFLOST 2011, and the National Electronics Museum. He frequently performs a set of original compositions featuring electric guitar and computer generated sounds. Bucsis released two CD's of all original electric guitar oriented instrumental music, 1998's For Those Who Don't Fit In 2000's Travelers' Tales.
Bucsis will be performing two pieces at SoundWalk 2013.
Blue developed from a feeling which can be described as having a calm, meditative, and soothing quality. It was accepted into CICTeM 2013 and Electroacoustic Barn Dance 2013.

The palindrome "I Am Who Am I" is constructed from concepts created in two disparate cultural traditions. "I Am" is derived from the statement "I Think Therefore I Am" by Rene Descartes and represents a Western point of view. "Who Am I" is a Zen koan and represents an Eastern point of view. The composition I Am Who Am Iis built around the words being recited in both Chinese and English by a native speaker of each language. All of the sounds in the piece are derived from various processing methods being applied to the spoken words.

SoundWalk is on October 5th, 2013.
RSVP on Facebook
. This will be the 10th and final annual event.