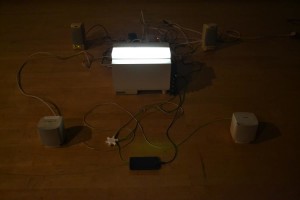 Michael Nannery often work in two simultaneous capacities: as a producer and a consumer. Recently, he has been creating media items and considering specific methods of presentation for them through the improvised use of technological devices, craftsmanship, and arrangement. These activities expand the potential for the varying (often highly personal) experience of consuming media. My installations and presentations are the result of the combined effort of eclectic components. The media topoi themselves are often nature or politically themed.
Beach Cats is a documentary about cats in Long Beach, California. All video was captured by a Samsung phone. The sound of the film is run through two sets of speakers: one set with digital reverb, and another set without reverb to create a spacious simulation of the ambient noises one might hear in Long Beach while confronting feral cats.
SoundWalk is on October 5th, 2013.
RSVP on Facebook
. This will be the 10th and final annual event.