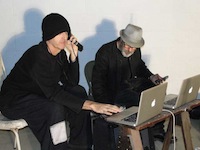 With an intercultural and inter-media aesthetic and praxis that can be described as "Weltradau" (World Noise), MLuM takes and makes the "best" out of the "worst (and vice versa) that various music(s), images, performance practices and sounds have to offer. Organic and inorganic processes, gong-chime cultures, ethnoise and sound mauls (as opposed to mere sound bites) are among its inspirations and references. MLuM"s creato-researchive interests include: The utilization and/or incorporation of scientific and pseudo-scientific technologies, methodologies and procedures into aesthetic and artistic processes; The aesthetics of sustainability; Sustainability as artistic tradition and genre; The geographics of social networking pertaining to the environmentics of location and mindset; Performance orientations relative to interactive systems within improvisational structures and environments; Charting  influence within the aesthetic –ismos
In addition to being a featured artist on National Public Radio programs throughout the U.S.A., MLuM, a Long Beach-based punceptual and histriophonic art ensemble comprised of multi- national artists, has presented internationally (Musicacoustica, Beijing; NUS Arts Festival Singapore; Centre de Cultura Contemporania de Barcelona; Galerija 73, Belgrade, Serbia; Galerie 21, Braunschweig, Germany; Smithsonian Week, Long Beach, CA; SoundWalk, Long Beach; Il Corral, Los Angeles; SIGGRAPH LA [Music Box Henry Fonda Theater] Hollywood, CA; Computer Music Journal [MIT Press], et. al.).
SoundWalk is on October 5th, 2013.
RSVP on Facebook
. This will be the 10th and final annual event.