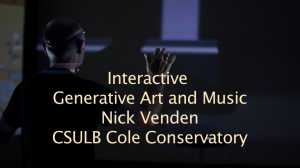 Nick Venden's practice is concerned with interactivity in the social realm. He has little interest in the proscenium spectacle, the presentational, or the concert setting. Venden is a graduate student in Interactive Digital Technology at CSULB Cole Conservatory. His film "The Voyeur" and his musical score for "No Horizons" represented CSULB at the 2013 Newport Beach Film festival. His is also at work on videos' for Brian Doan's solo show for the Vilcek Foundation Gallery in NYC October. Venden is also the conductor for North American and Asian Tours of "Les Miserables."
In his piece Interactive Generative Art and Music motion sensing cameras, an audience member is able to trigger and control both imagery and audio in realtime. Multi-channel sound is heard while three back-projection screens show a mix of found footage, original AfterEffects-generated video, and a live video camera. Sound and picture are modified by participants' interaction with Microsoft Kinect and LeapMotion sensing cameras which are interfaced with Max/MSP controlling VDMX5 VJ software.
SoundWalk is on October 5th, 2013.
RSVP on Facebook
. This will be the 10th and final annual event.