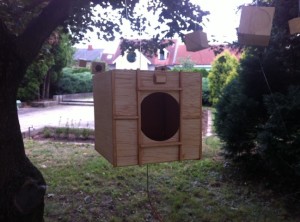 Paula Matthusen is a composer who writes both electro-acoustic and acoustic music and realizes sound installations. She has written for diverse instrumentations, such as "run-on sentence" of the pavement for piano, ping-pong balls, and electronics.Her work often considers discrepancies in musical space–real, imagined, and remembered. Awards include a Fulbright Grant, two ASCAP Morton Gould Young Composers' Awards, and the "New Genre Award" from the IAWM. Matthusen is currently Assistant Professor of Music at Wesleyan University.
Through his creative work, Jacek J. Kolasinski has tested complex video installations, single and multiple channel projections, as a well as site-specific projects in the context of public architecture. His art work has reached large international audiences through presentations and exhibitions in numerous venues including: the Teatro Colon, Buenos Aires, Argentina: ; 61 Festival de Cannes – Short Film Corner; Cinema Politic, Barcelona, Spain; and Digital Fringe, Melbourne, Australia. Kolasinski's work is rooted in an international dialogue between two worlds: the "Old World" of Europe in Krakow, and the "New World" of the United States in multicultural Miami. These convergent worlds create a running theme that surfaces in many of his works: the search for identity in the vortex of cultural displacement. Kolasinski has been awarded a Florida Cultural Consortium Fellowship in the media and visual arts and the prestigious Kosciuszko Foundation Fellowship.
A native of San Francisco, Tung-Hui Hu has worked as a political consultant and computer scientist, and holds degrees from Princeton, Michigan, and UC Berkeley. His third collection of poems, forthcoming from Copper Canyon Press, won the 2007 James D. Phelan Literary Award. He is Assistant Professor of English at the University of Michigan and a member of the Michigan Society of Fellows.
Sway is comprised of twenty-five hand-built resonators suspended from trees or architectural structures. Piano wires of different lengths and thicknesses extend from the center of the resonators such that the tip of the wire may brush the ground. "sway" is meant to be both interactive with the elements and the audience. As the wind blows and as the audience touches the wires, the individual, suspended units will output slightly reverberant, percussive tones. As a result, the movement of trees and people creates subtle swells within a gentle sonic texture. Some resonators are also equipped with miniature electronics, emitting short fragments of an original poem by Tung-Hui Hu. 
SoundWalk is on October 5th, 2013.
RSVP on Facebook
. This will be the 10th and final annual event.