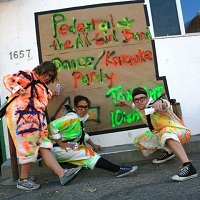 Pedestal and the All Girl Band (P$tAGB) is a Los Angeles-based performance collective dedicated to using POP, engagement, and collaboration.
This year, they will fashion a 'return' of Bas Jan Ader, in their manifestation of The Search For the Miraculous: One Night in Long Beach, for Soundwalk 2012. Commencing our journey from the Pacific Ocean, they will walk the short distance from the beach to Soundwalk, with a sculptural/imagined version of The Ocean Wave (made from a refitted shopping cart). The prop will serve as an apparatus for performance. These earthly messengers will traverse the Soundwalk landscape, creating images and sounds through engagement and the ritual of song. Like Ader's students, they will enjoin others to lift their voices with them, rousing the spirits of the hopeful, open-hearted, and the adventurous, as we seek to evoke, in the spirit of Jan Ader (and through the alchemy of collective joy), an encounter with the Miraculous.
For Soundwalk 2011, P$tAGB inaugurated the 'Pop Kart' a mobile (wireless) karaoke unit, equipped with an arsenal of popular songs, especially chosen for Soundwalk's discriminating and pop savvy audience. From contemporary to 'oldies' there's a secretly familiar friend in there for everyone to select. Lyrics were written, rolled, and tucked into tubes, identified only by mysteriously coded labels. When revealed they where blasted like musical firecrackers lit by open hearts, the push of an ipod button, and the amplified voices of participation. Don't know all the words? Forgot the tune? Don't worry, the band (and anyone else) helped.
SoundWalk is on October 5th, 2013.
RSVP on Facebook
. This will be the 10th and final annual event.