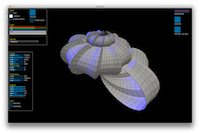 Listening to the Ocean on a Shore of Gypsum Sand is a collaborative project between Gene Kogan, Phillip Stearns, and Dan Tesene. Seashells are 3d printed from algorithmically generated forms for the sole purpose of listening to the "ocean". The project questions the role of experience in the mediation of the virtual world to the real world and visa versa.
For those of us who have had the experience of listening to the sound of the ocean in actual seashells, it is a questions of lived experience shaping an approach, not only to the object (or world) at hand, but how it is perceived and acted upon. Are we to trust these shells? Do we seek out natural shells for comparison?
To those for whom their first experience of listening to the "ocean" through the digitally produced shell, the question becomes one of how the first encounter with a virtualized and simulated reality shapes the experience of lived space. This virtual shell is all I know of the real, until I encounter those found in nature—and when I see this natural shell, what then is my experience of? More broadly, how does mediated reality form our preconceptions of the world?
For some, these questions seem obvious—we may even have convinced ourselves that we have this all figured out. We are aware of the possibility that the virtual world and real world are two interacting identities, distinct ideas that maintain their individuality despite their mutual influence on one another. There is, however, a possibility that this distinction is fading with younger generations, as technologically mediated experiences permeate childhood. I wonder about the effect of this as they grown into the world.
Timelapse of 3D Print Job – Songs of the Sea from Phillip Stearns on Vimeo.
Phillip Stearns received his MFA in music composition and integrated media from the California Institute of Arts in 2007 and his BS in music technology from the University of Colorado at Denver in 2005. His work has been exhibited internationally at electronics arts festivals, museums, and galleries including: Harvestworks (2010 NYC); Gli.tc/H (2010 Chicago, IL); Festival De Arte Digital (2010 Belo Horizonte, Brazil); FILE (2009 Sao Paulo, Brazil); NIME (2009 Pittsburgh, PA); Filmer La Musique (2009 Paris, France); FONLAD (2009 Coimbra, Portugal); Torrance Art Museum (2008, 2007 Los Angeles, CA); Optica Film Festival (2008 Gijon, Spain). He has participated in residencies at Museums Quartier (Vienna 2010), STEIM (Amsterdam 2007), Experimental Television Center (NY 2009), Harvestworks (NY 2010), is the current AIRTime Fellow at Free103Point9 for the 2010-2011 cycle, and curator for the 8th annual Bent Festival (2011).
SoundWalk is on October 5th, 2013.
RSVP on Facebook
. This will be the 10th and final annual event.