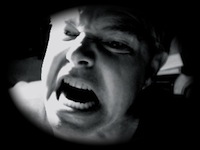 Phog masheeen will be am putting the walking back into Soundwalk 2012. As a response to bringing a truckload of gear and being stationary for the last few years, this year he is going nomadic. By reducing the amount of gear to only what he can carry, movement through the soundscape is now possible. Because I will be moving from place to place seeking sonically active environments, the piece is titled Quest for Resonance.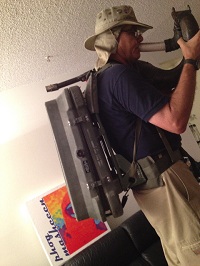 phog masheeen will be carrying a battery driven setup that applies electronic effects to a retro-fitted motor cycle exhaust that is played like a digeridoo called a Duodenum. Fitted with repair brackets and flawed welds the Duodenum is a refreshing contrast to commercially available musical instruments. Although glossy and pristine, commercially produced instruments do much of the work for the performer. Where as a motorcycle exhaust was never intended to be played as a digeridoo and it is a test of will to wrench musical content out of such and object. It is a constant struggle to find a way to convince this stubborn chunk of steel that it can aspire to something more. It is heavy and brutish and its worst unintended side effect is that it leaves the performer with breath that smells of two-stroke oil.
phog masheeen will tweet the locations of the performances. To subscribe to the twitter feed follow #phogmasheeen. Or…Just look for the phog masheeen sign.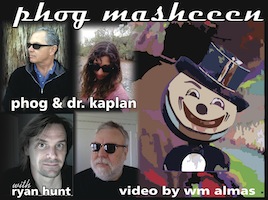 For SoundWalk 2011 phog masheeen was a sound art/video collective that focused on using aerophones, idiophones and electronics for performance and sound design. Audio portions were accompanied by live mixed video. Home-brew instruments, common objects and extended techniques involving dry ice are common features of phog masheeen performances. 
The works of phog masheeen have been presented at the Boise Creative and Improvised Music Festival, Boise ID; Sonic Circuits, Washington DC; Electro-Music, Philadelphia, PA; Santa Ana Noise Festival, Santa Ana CA; Norcal Noisefest, Sacramento, CA; Wonder Valley Experimental Festival III, Wonder Valley, CA; Spring Reverb, San Diego, CA: Outsound New Music Summit, San Francisco, CA; 8 Bit noise art @ Leadway, Chicago, Il; Zoom 2, Torrance, CA; Jawbone Canyon IV, Mojave, CA;  and The Soundwalk, Long Beach, CA.  Through an ongoing participation in the Le Placard Headphone Festival, phog masheeen has streamed audio to events in, Paris, France; Bucuresti, Romania; Nancy, France;  Cahors, France; Köln, Germany; Kraków, Poland; Bourges, France; Kyoto, Japan; Toulouse, France; Dijon, France and others.
SoundWalk is on October 5th, 2013.
RSVP on Facebook
. This will be the 10th and final annual event.