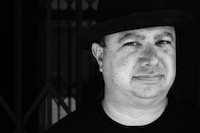 Sander Roscoe Wolff is an artist, musician, audio engineer, arts advocate, journalist, poet, and photographer. He has worked worked in a variety of media, including acrylic paints on canvas, sound-powered kinetic sculpture, ceramic sculpture, multi-media including site specific installations of various sense elements,performance art, and fine art photography. He's had a varied musical history, including playing bass in several bands, choral singing, solo instrumental performances, and a variety of collaborations and one-off projects, playing a variety of instruments with varying levels of proficiency.
As an audio engineer he has worked in a variety of academic, studio, and live sound contexts using analog and digital recording equipment, recording jazz, rock, classical, choral, orchestral, hip-hop, and experimental projects as producer, song writer, arranger, and post-production. Sander is currently the Culture Agent columnist for LBPost.com, a role which arose from his coverage of the local arts scene for LongBeachCulture.org, a free portal site he co-founded, his features about the Long Beach Symphony Orchestra for the Grunion Gazette, and serving as music editor for the Long Beach Union Newspaper. He has also served on the boards of The 2nd City Council Art Gallery + Performance Space, and the East Village Arts District.
Sander's piece Alarming will be scattered throughout the neighborhood and surprise people as they move through the space.
SoundWalk is on October 5th, 2013.
RSVP on Facebook
. This will be the 10th and final annual event.