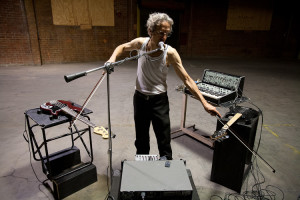 Small Drone Orchestra starts with a low fundamental tone and bring out its resonant frequencies or overtones. This gradually creates panoramas of swirling overtones beating against each other. The patterns vibrate the eardrums and send pulses throughout the nervous system. This enables the mind to embark on very special explorations and in new directions, because it always has a fixed point to come back or refer to. You could call it sonic meditation. Small Drone Orchestra opens a door into a sonic space where people feel connected to the energy of the universe. Such opportunities are becoming increasingly rare in our accelerating world. Providing this experience is Small Drone Orchestra's contribution toward the effort to help us move, both individually and collectively, away from our self-destructive path and toward a life filled with possibility.
For SoundWalk 2013 Small Drone Orchestra will perform an improvised electronic drone piece using two bowed bass guitars, synthesizer, vocal, and mixer.
SoundWalk is on October 5th, 2013.
RSVP on Facebook
. This will be the 10th and final annual event.