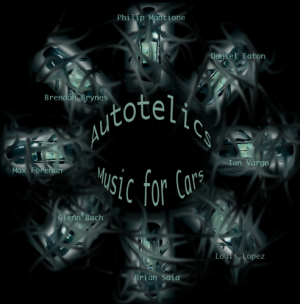 The Autotelics is a group of musicians, composers and sound artists formed for the purpose of realizing the sound installation, Music for Cars. Consisting of Philip Mantione, Brendan Byrnes, Daniel Walter Eaton, Glenn Bach, Louis Lopez, Max Foreman, Brian Patrick Saia and Ian Vargo, they work independently under loosely defined parameters developed by consensus.
The sprawl of LA is by necessity negotiated by car and we connect ourselves with a geographically dislocated culture by means of the automobile. While public transportation is evolving to facilitate a more progressive and ecological approach to commuting, accessing the dispersed cultural hubs throughout the area still requires the use of a personal vehicle. Paradoxically, these vehicles both connect and disconnect us as citizens…isolating each traveler as they move from place to place. The journey becomes a period of isolation, alienation and at times annoyance. In Music for Cars, the theme of "connectivity" relates specifically to the use of vehicles, particularly in the Los Angeles area. With cars as a sound sources, the listeners may interact, while self-composing their sonic experience based on their movement and physical location within installation. The "connectedness" of the sound is accomplished by establishing a common mindset amongst the artists regarding the structure, density and texture of pre-composed material.
SoundWalk is on October 5th, 2013.
RSVP on Facebook
. This will be the 10th and final annual event.