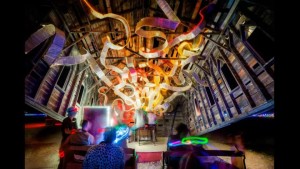 The Church Trap Team is collaboration between Rebekah Waites, Scott Froshcauer, Jena Priebe and Tom Pine. Rebekah Waites is the team leader and was the originator of the concept for the celestial organ. Scott Froushauer is the logistical lead of the project and coordinated the build and much of the material logistics of the church trap work. Jena Priebe is a designer who will be responsible for the bulk of the look and feel of this work. She is responsible for the fabrication of the explosive music and for the look and feel of the antique pump organ-modern electronic organ integration. Tom Pine is the technical lead on the project, providing sound amplification, technology integration and light show integration of the project. He also provides execution support to the other artists and will be leading the post-burn incarnation of this installation piece.
Featured at Burning Man 2013, Celestial Organ Relic explores a synesthetic audiovisual experience that evokes the socio-political trappings of the church organ while bringing the instrument into a glistening technological present. The soul of an organ has been flayed and frozen in time in space. Tendrils of forgotten sheaves of song stretch from a reanimated century old pump organ into the air, into free space. They surround the participant-organist with a visual manifestation of the music created by the organist and persist for a fleeting moment. This piece will exist as the sole surviving relic of the Chruch Trap – an honorarium piece at 2013 burning man: cargo cult.
SoundWalk is on October 5th, 2013.
RSVP on Facebook
. This will be the 10th and final annual event.