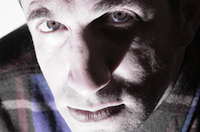 Tom Zear has been experimenting with sound since joining and starting punk rocks bands in High School. His first combo piece, 'Chamber Of Dementia,' started as an installation so the viewers could interact and produce sound themselves. He went on to amplify guitar pickups mounted to sheet metal and run it into pedals like loops and delays. He has preformed and/or had his work installed at CSUF, undergrounds, galleries and street scenes.
In his piece ChimeWalk six iodized copper chimes are connected to the fence in the alley next to Fingerprints. At each end of the fence a container of wooden sticks sound tools. Participant pick up the sound tool and strike each chime while walking down the alley way. The alley will be lit by various battery operated devices. Within the pathway phrases and questions are written. The participants can give their own input and feedback by writing down a response to the chime experience.
SoundWalk is on October 5th, 2013.
RSVP on Facebook
. This will be the 10th and final annual event.