SoundWalk 2011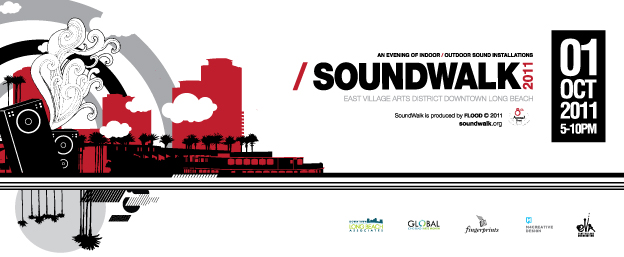 Event Details
WHAT: Sound Art Event "SoundWalk 2011", a one-night event of sound installations by 40 local and international sound artists.
WHERE: Throughout the area encompassed by 4th St, Linden Ave, 1st St, and Elm Ave.
WHEN: Saturday, October 1, 2011 from 5–10 pm
ADMISSION: Free
PARKING: Metered parking is available on the street; additional parking is also available in the parking lot at the NW corner of Broadway and Elm Ave.
Taking place in Downtown Long Beach, SoundWalk is an annual art event, now in its eighth year, produced by the Long Beach artist group FLOOD. Sound art located throughout the area will encompass a wide range of work that will integrate visual, performative and aural elements. Included will be sculptures, environments, performances and installations, both interactive and passive. This year's event will explore the concept of connectivity.
Watch the Video
Watch on YouTube
SW11 PARTICIPATING ARTISTS:
Alan Lechuza / Alan Nakagawa / Alex Braidwood
/ Clowns and Fetuses / Colin Woodford / Craque / David Cox & Kim Walker / David Kendall / Dirty Chaps / bRUTAL pOODLE / Erin Scott / Gary Raymond / GIL KUNO & MARCOS LUTYENS / gintas k / Igor Amokian / Impossible Moon / Inouk Demers / joshua erkman / Kenneth Cameron / LavishWomb / Linda Ravenswood / Mark Trayle / Karen Crews & MLuM / Nat Evans /
Pedestal and the All Girl Band / Phillip Stearns / phog masheeen / Push The Button / Roxanne Varzi / Sadie Siegel / Southern California Soundscape Ensemble /
Steven Speciale / Therisse Martinez> / Tom McDermott /
Wheels / Wikigong / Winston Berger / Winter Jenssen /
Xavier Leonard / Yoon Chung Han
Add your photos to our Facebook photo album
Please listen to the the SoundWalk 2011 Audio Catalog mp3 version
SoundWalk 2011 Audio Catalog, mp3 version by soundwalklb
or
Download the m4a version of the SoundWalk 2011 Audio Catalog for iTunes/iPad/iPhone/iPod/QuickTime containing photos, chapter makers, and links
top